Are Games the Missing Puzzle Piece in Saving Lives?
A hackathon explores: What if a game could reduce the stigma of HIV and even save lives?
October 06, 2020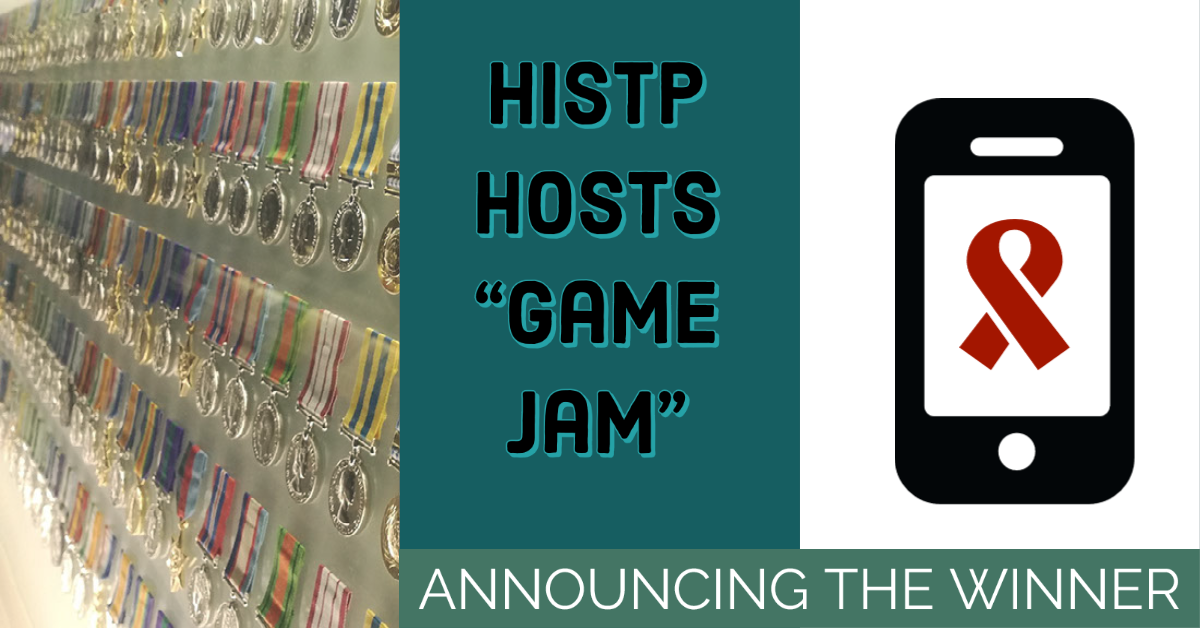 What if a game could reduce the stigma of HIV and even save lives? 
Despite years of efforts, new treatments, and the advent of life-saving medications such as pre-exposure prophylaxis, or PrEP (medicine taken to prevent HIV), transmission of HIV remains high. Today, about 1.2 people in the U.S. are living with HIV. HIV continues to have a disproportionate impact on racial and ethnic minorities and gay and bisexual men. Globally, there were approximately 38 million people with HIV/AIDS in 2019. Rates of HIV transmission also continue to rise in Central Asia and parts of Sub-Saharan Africa.
In fact, the 2020 UN AIDS global report shares that due to "deeply unequal success" the 2020 UN AIDS targets are unlikely to be met. They continue: "COVID-19 risks blowing HIV progress way off course."
How can researchers and scholars utilize modern technology, such as games, to change these outcomes and reduce the transmission of HIV and increase adherence to treatment? 
This is a central question posed by the HIV Intervention Science Training Program for New Underrepresented Investors (HISTP) based at the Social Intervention Group (SIG) within the Columbia University School of Social Work. HISTP recently partnered with Games for Change, a "movement and community of practice dedicated to using digital games for social change."

The first Hackathon "Game Jam"
This month, five HISTP scholars participated in a "Game Jam" hosted by Games for Change: Drs. Caroline Kingori, Peter Memiah, Jaih Craddock, Aimalohi Agnes Ahonkhai, and Megan Threats.
Prior to the game jam they were each paired with a professional game developer by Games for Change. Developers included Joel Forrester, Roman Sharf, Avery Whitted, and more.
Over the course of two days, they collaborated to develop a playable prototype of their proposed game as well as supporting documentation to help move the game forward in whatever way the scholar deems appropriate.
The expert group of judges were:
Brendon Trombley, the Senior Educational Content Developer at BrainPOP, an animation education site for kids;
Dr. Kimberly Hieftje, Research Scientist and Deputy Director at the Yale Center for Health & Learning and Games; Director, play4REAL Lab at Yale, and Deputy Director, play2PREVENT Lab at the Yale School of Medicine;
Dr. Maria Isabel (Isa) Fernández, Professor of Public Health in the College of Osteopathic Medicine (COM) at Nova Southeastern University (NSU); Director of the Behavioral Health Promotion Program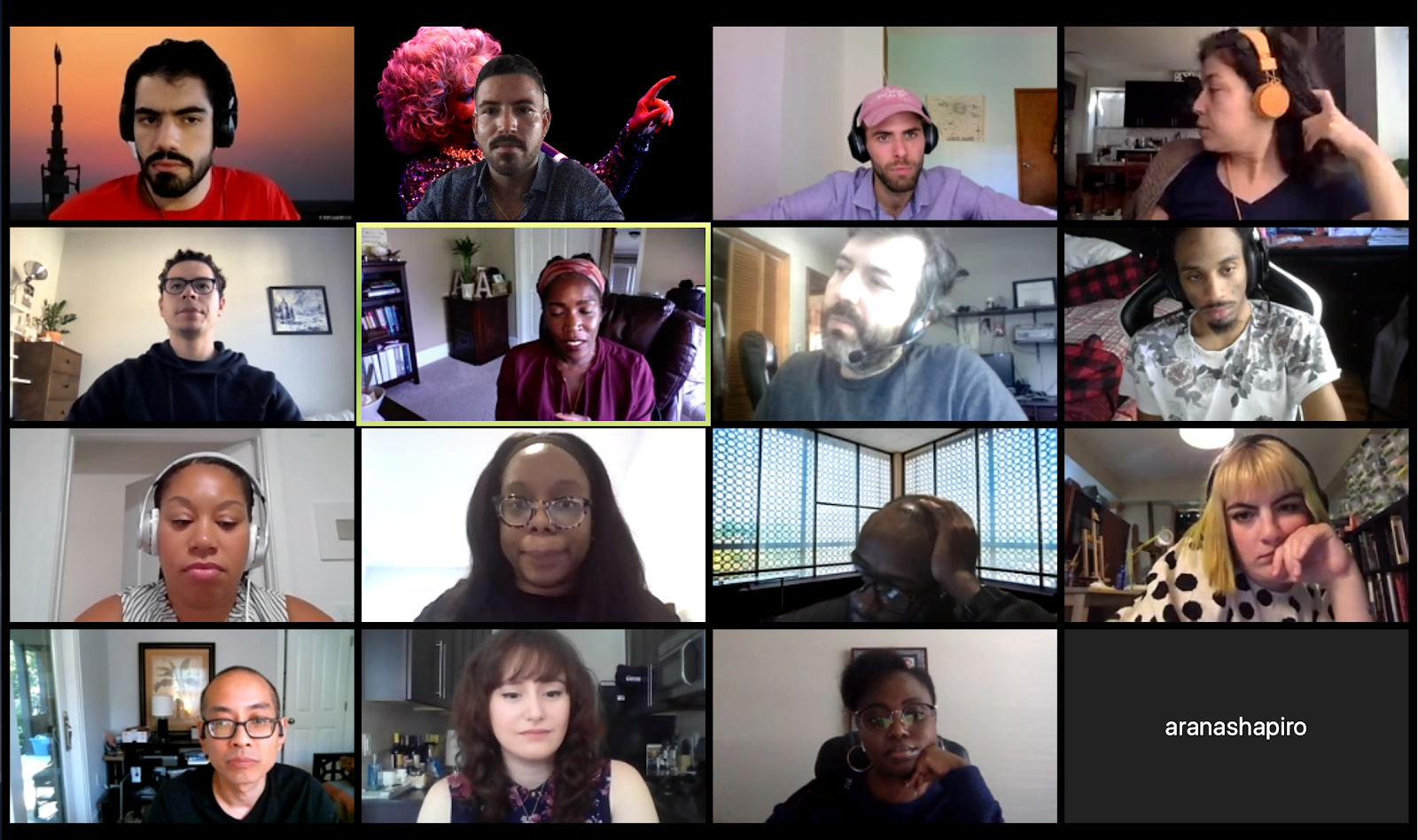 All the submissions were worthy, exciting, and fun.
Scholars worked in teams to develop and design game prototypes. Each team presented the final game, and judges deliberated to select the winner.
Submissions from HISTP scholars ranged from a SIMS-inspired role playing "Sex Games" and a strategy game called "Don't Play Yourself" by Dr. Jaih Craddock, to an interactive healthy relationship tool and safety decision aid "i-REACH" by Dr. Peter Memiah, to "DatingForward," a dating simulation game by Dr. Caroline Kingori, to a puzzle-simulation game to increase connectedness to and awareness of HIV care by Dr. Megan Threats called ChpChirp.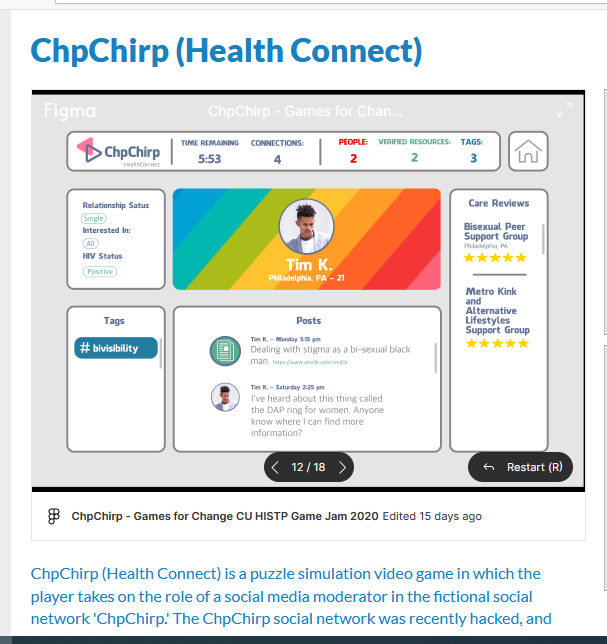 I was so impressed and inspired by the ideas, the creativity, and seeing some of the possibilities afforded by gamification come to life!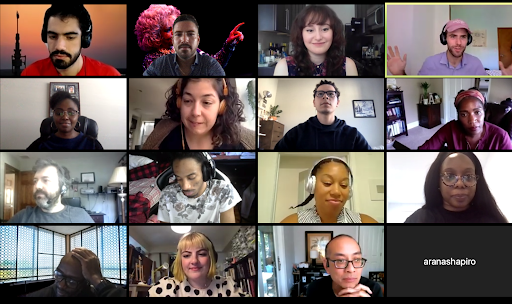 After three development sprints, two days of deliberations, and the final five presentations by HISTP scholars, the judges --expert game designers-- reviewed the submissions and had a verdict.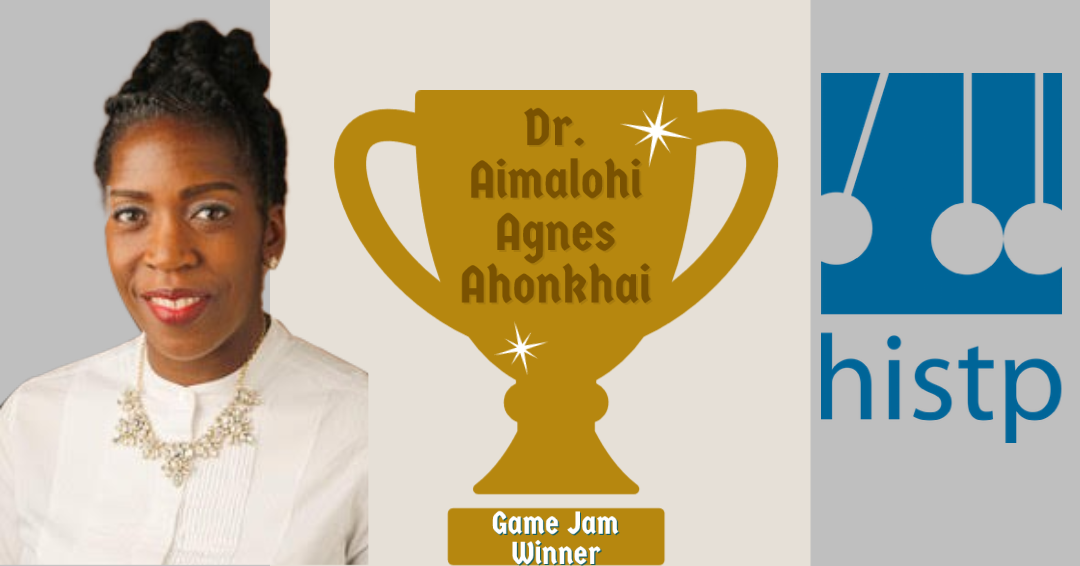 Winner of the Game Jam: Change My Story
After much deliberation, Aimalohi Agnes Ahonkhai was chosen as the winner of the Game Jam. 
Her intervention was focused on storytelling to improve mental health outcomes and adherence to HIV medication. It is entitled Change My Story.
---
More about Change My Story from Dr. Ahonkhai
The issue
HIV is the second leading cause of death for adolescents globally and the leading cause of death for African adolescents. There are about 5 million adolescents and young adults living with HIV worldwide, the vast majority of whom reside in Sub-Saharan Africa. 
Depression and mental distress are common among youth living with HIV, and are associated with worse HIV outcomes along the continuum of care. HIV-related stigma and deeply entrenched fears around disclosure are important drivers of mental distress in this population often causing HIV to be managed in isolation, and feeding a vicious cycle between depression and coping with HIV status, and HIV outcomes. 
However: Most youth living with HIV and depression do not have access to needed care. 
The game intervention 
Change My Story is a powerful environmental novel with a choose-your-own-adventure format where players navigate difficult experiences along with the main characters, and interact with the environment to choose a narrative path to reach the story's conclusion. 
Our prototype tells the story of Obi, a 27-year old young man who has lived with HIV since birth. Obi learned of his HIV diagnosis in a traumatic way, and now is struggling to disclose his diagnosis to his girlfriend with whom he now lives. 
The story starts with Obi at his doctor's office, then returning home to contemplate his options.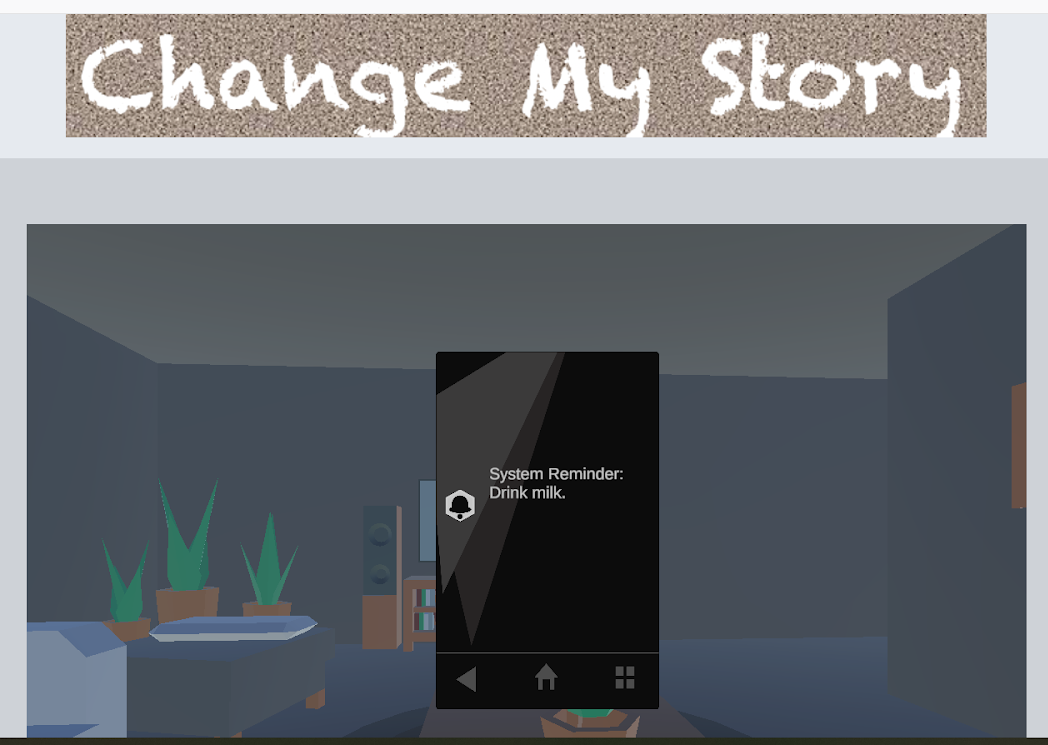 While conceived to facilitate and enhance a novel mental health intervention for young people living with HIV in Sub-Saharan Africa, Change My Story has further potential for impact by helping players who are not living with HIV to understand and empathize with the stories and paths of their peers, to address stigma in new ways.
---
Many congratulations to Aima (and Joel) for Change My/Our/Your Story!!! I observed the judges deliberation, so there were so many great design elements and ideas that I hope all of you can find ways to share and strengthen each others ideas, because they all had amazing elements.
Interested in becoming an HISTP scholar or inviting a colleague to apply? Good news: HISTP is currently recruiting five scholars. Learn more and apply here.
HISTP is housed within the Social Intervention Group (SIG).